Wedding Themes and Styles: Which One Is Right For You?
Wedding themes and styles are one of the first things to decide when you start to plan a wedding.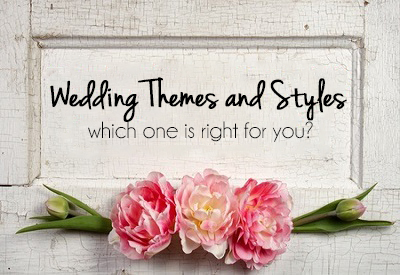 It's important to get a head start on wedding planning so that you aren't rushed at the last minute, but you can't really start that process until you know your style and theme. If you have a wedding-related item that you absolutely love or want to incorporate into your big day for sentimental reasons, that item may give you a starting point for creating a unique wedding theme. If you are starting from scratch, you can use the following tips as guidance for determining your style and selecting the perfect wedding theme.
Your Wedding Style
Get in a comfortable position when you have some free time, and imagine your ideal wedding day from start to finish. Close your eyes and imagine the decorations, the guests, the clothing and the color schemes. What words would you use to characterize the style of the wedding you imagined? Is it fun and playful, or is it super sophisticated? Are your guests partying the night away with an open bar, or are they waving their wedding favor fans while you perform a classical dance with your spouse?
You can twist most wedding themes to fit any style, but you must first determine what the vibe will be like at your wedding. Your guests can let their hair down and celebrate your big day party style, or they can enjoy couples dances, gourmet meals and luxurious favors. There are also variations in between those two extremes.
Optional Wedding Themes
Once you know what mood you want to create at your wedding, you can start thinking about wedding themes that fit that style as well as your personality, your lifestyle and your budget. If you have no idea what wedding theme fits you, start a brainstorm list using the following prompts: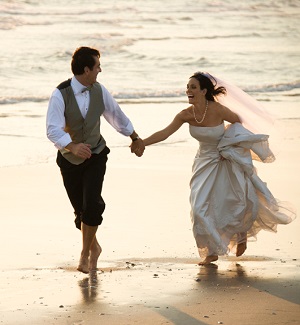 Favorite holidays

Place you met
Month you met
Memorable relationship moments
Favorite colors
Lifestyle options (country western, etc.)
Loved ones you want to remember
Honeymoon location
Any theme ideas that come to mind, write them down. The more options you have, the more likely you are to find the perfect theme for your wedding. For instance, if you are going to Hawaii for your honeymoon and your wedding is in the summer, you may decide to have a beach-themed wedding with elements of Hawaii, such as leis for your guests.
You can also use Pinterest and other websites when trying to determine the best wedding themes and styles.  There are thousands of wedding decorations and favors featured on that site, and they fit a wide variety of wedding styles. As you find decorative ideas that fit your style, you may start to think of wedding themes that would correspond with those ideas. Maybe you won't use those decorative ideas, especially if you don't want to make your own wedding decorations and favors, but those images can lead you to a theme that you might not have considered otherwise. Searching for ideas through Google images may inspire you to think of new themes as well.
What About Your Budget?
You may think that some wedding themes and styles are too much for your budget, but don't make that assumption until you look around at available products. You can buy many wedding favors in bulk online at affordable prices, and some of them look far more expensive than they actually are. You can also substitute materials. For instance, use glass favors and decorations rather than crystal. You can use a variety of fabrics that look silky without actually investing in silk, and so forth. This gives you the rich look you want without breaking your budget.
Related Articles about Wedding Themes and Styles: