Budget-Friendly Wedding Theme Ideas
 You can still use these wedding theme ideas to create a magical day that you will remember forever even if  you have a limited budget to make your wedding dreams come true.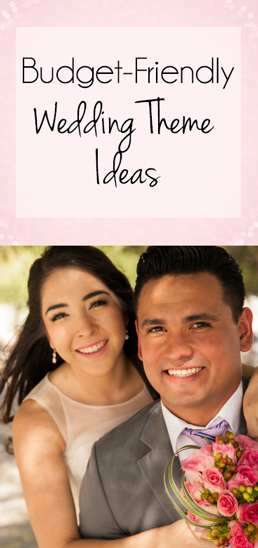 There are a million little ways to cut expenses as you move through the planning process, but you will save the most money if you start out with a budget-friendly theme. The following ideas may or may not fit your style, but they should get you thinking about other themes that will fit your style while benefiting your budget
Affordable Wedding Theme Ideas:
1.  All That Glitters
You could adjust this theme idea to "all that shines" or other variations that fit the wedding vibe you want to create. Glitter is cheap at local craft stores or through online retailers, and it comes in many different colors. You can add glitter to cheap candleholders and other items to create budget-friendly decorative features. If you use "all that shines," you can incorporate glass wedding favors and other items into your decorative them.
2.  Downhome Country
You can throw an elaborate, expensive country wedding, but this theme is just as easily thrown together on a shoestring budget. There are a variety of decorations and favors designed just for this theme, giving you many options to stick to your budget. You can also repurpose a lot of things from your daily life, especially if you already live the country lifestyle.
3.  Be My Valentine
This is the easiest wedding theme to decorate for, since there is a massive Valentine's Day industry. The items created for this holiday are perfect for wedding decorating. They range from bright red and pastel pink to white, cream and black. You aren't limited to items created just for weddings when you use some of these products designed for lovers on Valentine's Day.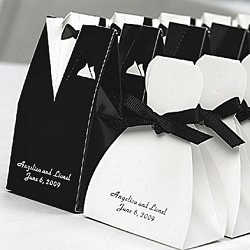 4.  Black and White
This theme rests on two basic colors, and you will find thousands of wedding favor options whether you make your own or order them in bulk. You can create table centerpieces, runners and other decorative features from a variety of materials found in local stores, saving you the expense of purchasing items designed just for the wedding industry. You can vary this theme to incorporate a color other than black, but black and white create an elegant appearance and provide the most options for budget-friendly decorating.
5.  Profession Themes
Create your own wedding theme based on your profession, your partner's profession, or some career field that is important to you. This allows you to use items that you may already own to create fun decorative features. You can also select wedding favors and decoration pieces from stores that cater to your profession, rather than only relying on wedding shops to have what you need.
You can also select a wedding theme based on where you met your partner. If you met in a coffee shop, you may recreate the coffee environment for your guests. This might include individual-serving packets of coffee with personalized labels or coffee cups on each table in place of wine glasses. Get creative, and you will think of ways to draw from your lives to create a budget-friendly wedding theme.
Related Articles: