Wedding Favors for Outdoor Wedding Themes

Outdoor wedding themes often draw their color schemes from Mother Nature.
You may select dark, rich colors like red, orange, brown and deep yellow tones for a fall wedding. Soft pastels are perfect for spring and some summer outdoor weddings. Icy blues and startling white are perfect for winter, and you may enjoy bright, happy colors to evoke the sunshine of a summer outdoor wedding.
While beach weddings are the first thing that many people think of when outdoor wedding themes come to mind, there are so many other venues to consider. For instance, you may say your vows in a garden full fresh blooms in spring or summer. If you are taking the plunge in the fall, you may venture out into the woods where you can surround your ceremony with trees and colorful falling leaves. Countryside weddings are perfect for traditional and country themes in all seasons.
Wedding Favor Ideas:

Tips for Selecting Outdoor Wedding Theme Favors
Anyone can pick up bulk candles that match the color scheme for a wedding and check favors off of the bridal to-do list, but you want to give your guests something to remember. Favors can serve as pat of your decorative scheme, but they also show gratitude and love to the people who take the time out of their lives to celebrate your big day. You want to give them something more than a cheap candle from the dollar store, but that doesn't mean you have to spend a fortune on wedding favors.
1.  Give your guests something fresh that speaks to the season of your wedding. If you have trees near your home that shed tons of pine cones, why not collect them fresh and create your own favors for a winter or holiday-themed wedding? You can fill decorative jars or candle holders with sand, seashells and other favors that speak to the beach and summertime. If your wedding is near Easter, why not give out marshmallow ducks inside gift boxes? Fresh wildflowers or rose petals can be added to any decorative favor container to add a touch of spring to your outdoor wedding.
2.  Buy bulk personalized favors with decorative elements that correspond to your wedding theme or season. For example, you may find leaf-shaped coasters and personalize them with a monogram or details about the wedding. Candle holders and favor boxes may also be personalized. You can even personalize chocolate bars and select themed wrappers that feature rose petals, leaves or other seasonal elements.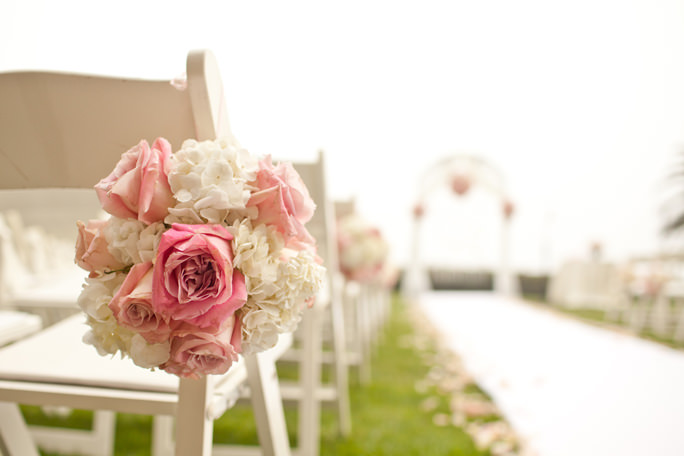 3.  Have fun with the outdoor setting by selecting bubbles, balloons and other favors that aren't as easily used indoors. You can collect a variety of fun outdoor favors and present them in a basket for the younger guests to enjoy.
4.  Select favors that your guests can use to enliven their own outdoor environments after the wedding. You can buy plantable confetti or seed cards which are buried whole. The seeds are contained in the paper, so the paper enriches the ground while the seeds take root and grow. These are perfect for summer and spring outdoor weddings.
Think about the symbols of your wedding season, and you will come up with a long list of potential wedding favor ideas. If you think creatively, you can purchase decorative favor boxes or personalized trinket boxes and fill them with something unexpected; something beyond the standard mints or customized M&Ms.
Related Articles:
Return from Wedding Favors for Outdoor Wedding Themes to the Home Page