Wedding Day Favors for
Seasonal Wedding Themes
Wedding day favors can vary by the season.  While seasonal wedding themes may feel restricting, they actually give quite a bit of leeway for creativity. 
For example, a fall outdoor wedding will work with bright yellow and orange hues, but it also works well with dark brown and cream hues. Think about the mood you want to set at your wedding, and select colors and favor ideas accordingly.
Wedding Favors by Season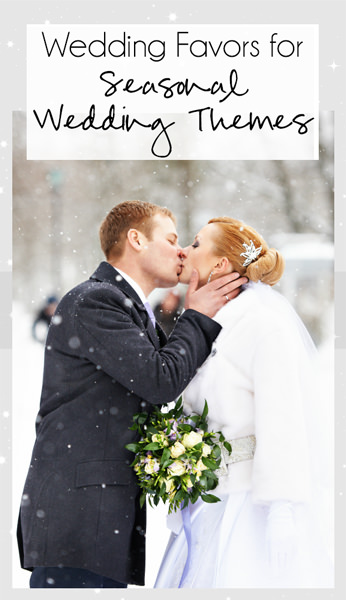 If your wedding theme isn't tied to a major holiday, you can select your wedding colors, design your decorative displays and select your favors based on the season. Winter wedding favors may include glass coasters with decorative snowflakes or snowflake-shaped bookmarks. Small sleigh favors may serve as place card holders, and glass mugs with personalized hot chocolate favors are fun options for guests of all ages.
Spring weddings lend themselves well to pastel colors and are often combined with tons of fresh flowers. You can use personalized chocolate bars with rose patterned wrappers as favors, or just go with fresh rose petals inside trinket boxes, decorative miniature baskets or favor boxes. Plantable favors which feature cards with embedded seeds are excellent ideas as well.
For a summer wedding, consider wedding day favors shaped like flip flops. These may range from bookmarks to bottle openers, and some are customizable. You may also consider picture frames with seashells and sand around the edges because they are perfect as reception place cards which your guests can take home and use to present their own memories later on.
Fall weddings are perfect for leaf-themed wedding favors. You can find coasters, candleholders and many other favors in different leaf shapes, and they are often presented in neutral colors that fit any type of fall wedding. Favors with rich, deep colors reflective of falling leaves are perfect for outdoor weddings in the fall.
Christmas Wedding Favor Ideas
There are so many ways to come up with creative Christmas wedding themes, and your favors should follow suit. For instance, you may select coasters, candle holders and place card holders with blue and white snowflake designs for a Winter Wonderland wedding theme. Favors made to resemble pine cones or decorative Christmas ornaments are perfect for traditional and classy Christmas wedding themes.
You don't have to stick with colorful bulbs when selecting holiday wedding favors and decorations. You can select silver, blue and white for your wedding scheme and purchase crystal heart wedding favors or glass coasters with decorative elements reflective of Christmas or the winter season.
Valentine's Day Wedding Day Favors

Don't limit yourself to red foil hearts, Hershey's kisses and red roses when selecting Valentine's Day wedding favors. Decorated fortune cookies with red, black and white icing look elegant and add some fun to your wedding reception while fitting your color scheme. You can use customized favor boxes filled with candy conversation hearts or heart-shaped chocolates, or go with elegant candle holders and red or pink tea light candles. Incorporate silver, pastel pink, gold and other colors to move beyond the traditional red Valentine's Day color combinations.
Combining Themes
If you want to come up with a truly original seasonal wedding theme, combine a season or holiday with other theme ideas. For instance, what would a winter Las Vegas wedding look like? How about a Christmas at the beach wedding theme? Think about your personality and the things you love to do, and you will come up with the perfect combination for you and your future spouse.
Return from Wedding Day Favors to the Wedding Theme Home Page