Unique Wedding Theme
Favors for Your Wedding Day
Why select unique wedding theme favors and decorations when you can simply choose colors that you think look pretty and call it good?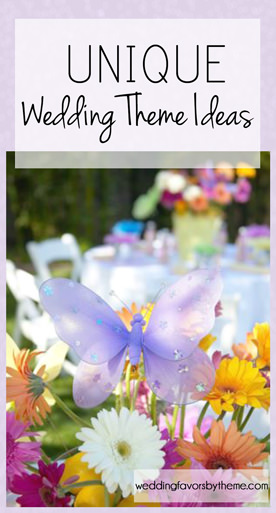 A themed wedding may seem to take more effort, and you may have concerns that your theme will come off as cheesy. Even if you think all of your friends have already taken the good themes, there are five reasons to come up with a unique theme before planning your big day.
Every wedding is different. You may attend one wedding that is more casual and laid back while another is ultra-sophisticated and formal. Even though your guests may know your personality well, they may not know exactly what to expect on your big day. That means they don't know what to wear, how to style their hair or how long to plan on being at your reception.
Unique Wedding Ideas and Favors:

Great Reasons to Pick a Unique Wedding Theme

A wedding theme sends a solid signal that your guests can expect a certain type of wedding. Your theme will influence your choice of wedding invitations, and that style will send an even bigger cue as to what your guests may expect.
1.  Themed weddings are far easier to decorate regardless of your budget.
It is difficult to decorate for a wedding ceremony and reception. If you have nothing but colors to go on, you may spend a lot of time debating on décor ideas. A theme allows you to take advantage of wedding favors, candles and other decorative items that are designed for popular themes. You just want to put your personal spin to make sure those items fit into your unique theme.
2.  A unique theme will ensure that your wedding is not confused with anyone else's wedding.
It's common for "wedding season" to bring on multiple bridal events for those in your social circle. You don't want to blend into the crowd, and you definitely don't want your big day to be confused with someone else's special day. That is where your unique wedding theme comes into play. It gives your celebration a special flavor that no one else can mimic or mistake.
3.  A unique theme will ensure that your wedding is not confused with anyone else's wedding.
From special props to locations no other bride will think of going for their bridal photos, your theme will become inspiration for a talented photographer. You will end up with pictures that you want to hang on the wall and look at for years to come.
4.  You can make your wedding more sentimental.
Draw from personal experiences and special people in your life when coming up with your unique wedding theme. You will end up with a theme that is dear to your heart and which many family members appreciate as well. Don't forget to get input from your future spouse when coming up with sentimental theme elements.