Luxury Theme Party Favors
Your Guests Will Love
Creating a rich environment with great theme party favors will make a luxury wedding theme complete.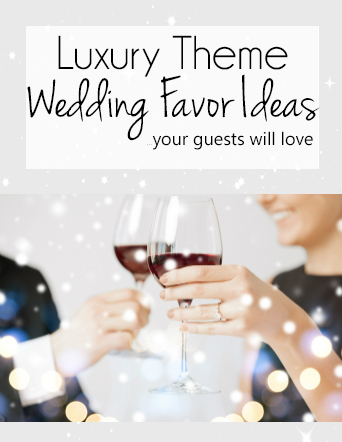 You want your guests to feel as if they are celebrities attending a red carpet event. Though you are the star of the night, you want them to walk away with some valuable swag as well. The wedding favors are what they will talk about for days or weeks to come, so make sure you give them something to brag about.
Swag Bags
Celebrities often receive bags full of high-dollar gifts when they attend large events. These bags are typically filled with free items provided by companies that see these events as marketing opportunities. You may not have a large company willing to give you free wedding favors, but you can still use the swag bag idea. Purchase bags or baskets that you can fill with a variety of smaller items. Your budget will determine how big the bags are and what you put in them.
Crystal and Glass
Crystal is a glamorous material for vases and many other decorative items in a home or professional environment. It reflects light well and can contribute to the luxurious vibe of your wedding whether incorporated into your table settings or laid out on tables or in baskets as favors for your guests. If you are planning a low-budget wedding, you can use glass instead of crystal wedding favors. You can pick up crystal or glass roses, coasters and bottles. Crystal and glass favors will fit any wedding theme, so they are some of the most versatile options available.
Precious Metals and Gems
Any silver or gold wedding favors will contribute to your theme of luxury. You may also want to incorporate favors that contain birthstones, rubies, emeralds or other stones often found in jewelry. You can find budget-friendly wedding favors that have fake stones in colors that are similar to those expensive jewels. Gold and silver can be incorporated into your overall decorative plan through vases, pillars and other items.
Customized Wedding Favors
Most brides order at least one item that is personalized for her wedding, but what about customizing gifts for your guests? You can do this on a budget by purchasing picture frame favors and printing out name tags on decorative paper, inserting those name tags into the picture frames and setting them out as seating markers.
You may also personalize candy bar labels and many other items with special sayings, nicknames and other statements just for your guests. Your guests will feel like VIPs when they see their names or insider jokes printed out and waiting just for them. You may do this just for special wedding guests or for every invited guest, depending on your budget and what items you want to hand out.
Click here to see several personalized favor options.
Wine Glasses
Personalize wine glasses and order them in bulk. This will give your guests something to take home that they will actually use, ensuring that you aren't wasting your wedding budget on a throw-away item. If you are planning a low-budget wedding, there are stemless wine glasses that come personalized for reasonable bulk prices.
Related Articles about Theme Party Favors and Wedding Tips:
Return from Luxury Theme Party Favors to the Wedding Theme Home Page